Japan Space Systems joins as a Satellite Data Provider and "HISUI"(Hyperspectral Imager SUIte) data are now available free of charge
News

Thank you for your continued support of Tellus.

Japan Space Systems(J-spacesystems) joins as a Satellite Data Provider and "HISUI"(Hyperspectral Imager SUIte) data are now available free of charge from October 12, 2022.

- The HISUI data image on Tellus(around Seto Ohashi Bridge)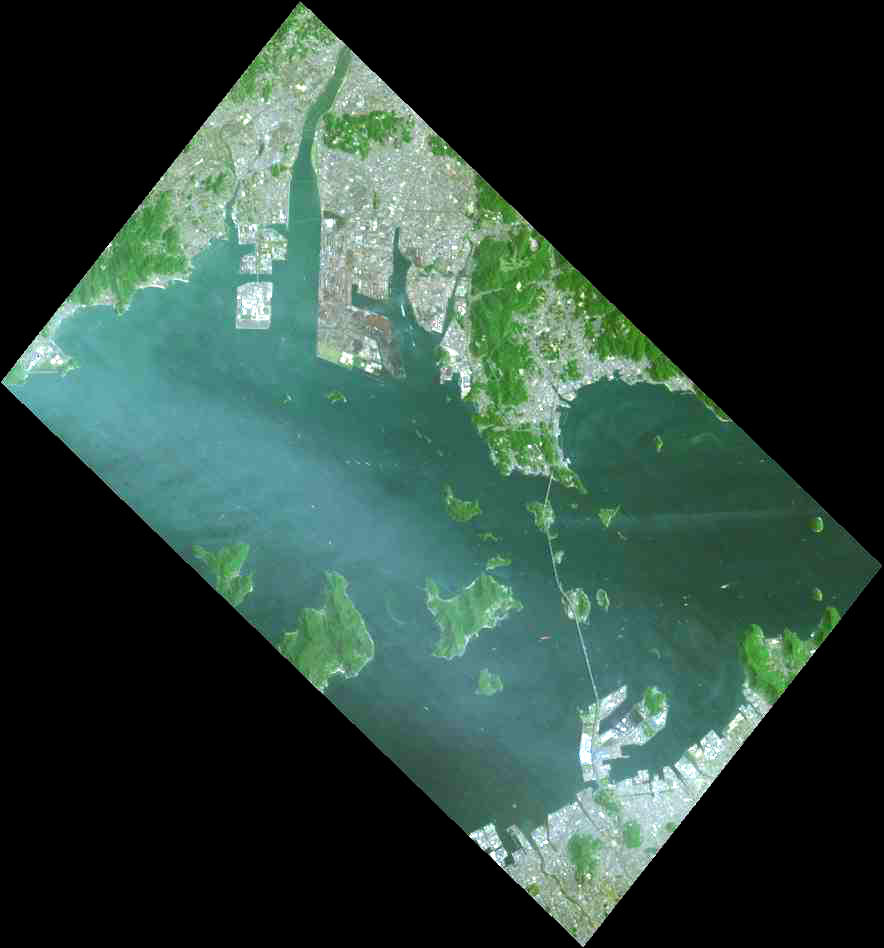 J-spacesystems conducts development and research, international cooperation, dissemination, and human resource education related to space systems, aiming to promote the utilization of space technology, sound development of the national economy and contribution to the international community. J-spacesystems has decided to join Tellus as a satellite data provider and release HISUI data free of charge in order to further promote the use of satellite data.
"HISUI" is a hyperspectral sensor for space demonstration: an optical sensor that can observe wavelength bands more finely than a multispectral sensor, developed by J-spacesystems on behalf of the Ministry of Economy, Trade and Industry (METI) of Japan, for the main purpose of remote exploration of oil and other resources for the stable supply of energy and resources in Japan. Under a collaboration agreement between the Ministry of Economy, Trade and Industry (METI) and the Japan Aerospace Exploration Agency (JAXA), the sensor was installed on the International Space Station (ISS) "Kibo" in December 2019 and started observations in September 2020.
While multispectral sensors: ordinary optical sensors, observe at a dozen wavelength bands, HISUI observes 185 bands and can more precisely identify materials on the earth's surface. In the field of natural resources, HISUI will be able to determine the distribution of a large number of minerals, which is important for resource exploration. In other fields, for example, detailed classification of forests and grasses, which is important in the environmental field, and understanding of the state of crops and soil, which is important in the agricultural field, will provide new information that is not currently available from widely used multispectral sensor data, and is expected to be used in a wide range of fields.
The HISUI data is uploaded sequentially and approximately 190,000 scenes will be available by March 2023, from the start of operations to the latest.Tellus is the first platform to make HISUI data available to the general public including individuals, since HISUI data had been provided by J-spacesystems to limited collaborators.


<About "HISUI">
- How to use the data Please create a Tellus account and fill out the application form on the special Website below.
*It will take several business days to be granted access to the data.
*Some sample data are available without application. Please see the special site for details.
- HISUI's special Website on Tellus
 https://www.tellusxdp.com/contents/data/hisui/


<Reference>
- HISUI project Website
 https://www.hisui.go.jp/