Satellite data business
Satellite data are used not only for academic studies and research. The businesses using satellite data are emerging around the world.
Here, we will introduce some of them.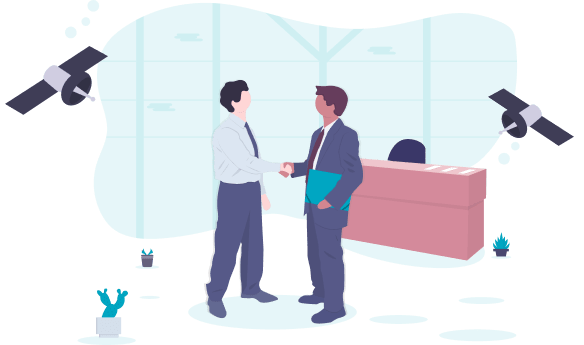 What we can grasp from satellite data
With satellite data, it is possible to grasp many phenomena and situations "on land," "in the sea," and "in the atmosphere" anywhere in the world.
Conditions vary with observation sensors, but only artificial satellites can observe a broad range of areas periodically for a long period of time.
Types of satellite data
Artificial satellites are classified into optical satellites, which are similar to human eyes, SAR satellites, which emit radio waves and detect reflected waves, meteorological satellites, which observe clouds and rain, etc.
The resolution (which corresponds to the visual acuity of human beings) of satellite data ranges broadly from less than 1 m of optical satellites to several hundreds of meters of meteorological satellites.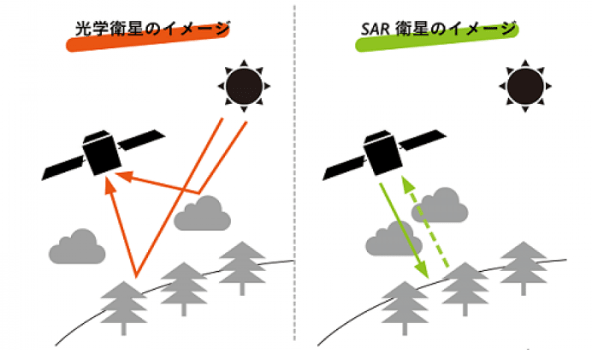 Data in Tellus
Not only satellite data, but also ground data, etc. have been loaded onto Tellus. The results of comprehensive analysis of multiple kinds of data would be utilized for grasping economic trends, selecting appropriate locations for setting solar panels, etc.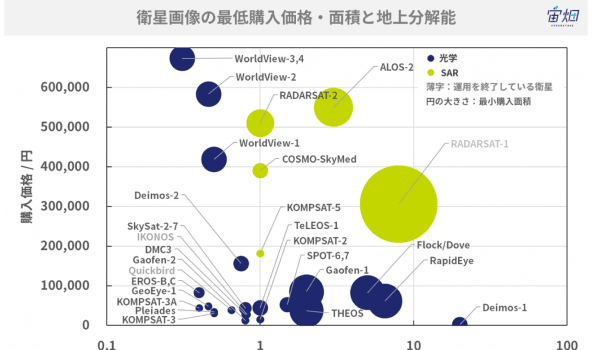 Business using satellite data
Space-based businesses include those using artificial satellites and those using space, and many enterprises are operating such businesses.
Especially, the business using artificial satellites includes the survey on a wide area of the earth, the advanced detection of location information, and the communication that can be conducted anytime, anywhere. The business using satellite data regarding a wide range of the earth has been growing significantly in recent years.
Click here to download the Data Catalog ©JAXA, which summarizes how to use and acquire data.
Survey on assets

Artificial satellites observe soil fertility, the residual amount of petroleum, and the brightness of the earth during the night. From their situations and changes, harvest amounts, oil stockpiles, GDP, etc. are predicted, and it can be utilized as reference data for futures trading and finance.

Representative enterprises
Share price prediction

From satellite data, the number of vehicles on parking areas is counted and the business performance of each enterprise is forecasted. In addition, by using them as indicators, it is possible to give correlativity to share price prediction. Furthermore, it is possible to analyze the number of automobiles in shipment yards of automakers and predict when the target production amount of automobiles will be reached in advance.

Representative enterprises
Insurance

Climate indicators (such as air temperature and precipitation amount) related to damages to agricultural crops are specified, and when it is confirmed from satellite data that these indicators satisfy the predetermined conditions, insurance money will be paid. On-site surveys are not required, and insurance contents become simple, so this insurance has been accepted by farmers in developing countries who are not familiar with insurance.

Representative enterprises
Logistics

In the field of maritime transportation, which accounts for about 90% of global logistics, satellites track sea routes, locate illegal fishing boats, etc. and these data are useful for marine insurance and marine rescue. In the field of air transportation, too, satellites track air routes, to improve safety, flight efficiency, etc.

Representative enterprises
Construction and real estate

The situations of scheduled construction sites, empty houses, deserted arable land, etc. are grasped with satellite data for broad areas, and these data can be used for designing and evaluating construction and urban plans. By utilizing meteorological and geographical information, it is possible to set equipment efficiently and control risks of disaster, etc.

Representative enterprises
Topographic survey

With artificial satellites, it is possible to grasp how land is utilized around the world, disaster risks, and infrastructure, such as water management facilities, plants, and roads. Then, these data can be used for efficiently locating infrastructure, designing land development plans, and evaluating them. In addition, it is possible to grasp 3D landforms around the world.

Representative enterprises
Infrastructure monitoring

With artificial satellites, it is possible to precisely and broadly extract variations in large public infrastructure, including dams, embankments, ports, roads, and railways. With this technology, it will be possible to easily grasp the deterioration state of public infrastructure and design repair plans. Furthermore, it is possible to broadly observe minor variations in buildings and the ground, and the data can be utilized for designing repair plans and controlling risks of leak from water pipes, etc.

Representative enterprises
Prediction of growth of agricultural crops

With satellite data, crop acreage, growth states, and eating quality are grasped, and the good timing of harvesting is predicted. These data are used for helping making decisions so as to improve the productivity and profitability of agricultural producers. In addition, the visualization of agricultural know-how is progressing through the combination of satellite and ground data.

Representative enterprises
Fish detection and aquaculture monitoring

Artificial satellites are suited for efficiently gathering information on the ocean from a broad area. Fish detection is conducted based on data, including sea surface temperatures, phytoplankton, and sea surface heights. This technology improves not only fish catches but also the efficiency of fishing by saving fuel for fishing boats and so on. For aquaculture, too, the data are used as environmental data for analyzing risks.

Representative enterprises
Monitoring and management of forests

Forests in a broad area are efficiently observed by artificial satellites, to manage the forests by categorizing tree types, grasping pest damage, and so on. Satellite data are also utilized for grasping large-scale forest fires, monitoring illegal logging, selecting plantation sites, etc.

Representative enterprises
Weather forecast

By utilizing the data of meteorological satellites, including Himawari, and ground data of AMeDAS, etc., computer simulation is conducted, to forecast weather in broad areas around Japan and also in local spots where events are scheduled to be held and shops are located.

Representative enterprises
Information on ultraviolet rays and atmospheric pollution

Artificial satellites can broadly observe atmospheric pollutants, yellow dust, etc., which cannot be seen by the human eye, and the observation data are utilized for predicting the arrival of them in Japan. Artificial satellites also observe the ozone layer around the globe, which blocks harmful ultraviolet rays from reaching the ground.

Representative enterprises
Epidemic monitoring

Artificial satellites cannot directly observe pathogens, insects that carry pathogens, or the like, but the satellite data of temperature, humidity, topography, precipitation distribution, etc. are used for grasping the routes of transmission of pathogens, estimating the risk of a pandemic outbreak, etc.

Representative enterprises
Disaster prevention and defense

Artificial satellites can collect ground information in a broad area anywhere in the world anytime day or night, so satellite data are used for grasping the situations of disasters and emergencies, and designing operation plans. In addition, satellite data are utilized for designing plans for recovery from disasters and managing risks for preventing disasters.

Representative enterprises
Provision of analysis results

By analyzing satellite data, it is possible to obtain a variety of information on the earth. Due to the advance of IT, the volume of available data and the computer environment have changed dramatically, and automatically analyzed information and new knowledge are offered to enterprises, governmental organizations, etc. in various fields.

Representative enterprises
Let's try Tellus right away